Hola World!
Jeremy Seick, Zack Williams, and Renee Arnold from Surfing The Nations are here in Mexico City recruiting. We are being hosted by the amazing Maria "Nana" and Paola in one of the craziest cities we've ever been in. Here are some highlights from our first couple days. One of our first stops was Maria and her brother Rodrigo's school Beraca, in Saint Jeronimo. We chatted it up with passionate young people, one of our favorite being Emilio who gave Zack a tech deck to "remember him" by.
Then it was off to Transformacion Urbana located in Chimalhuacan, 2 hours away from our home base but amazingly still within Mexico City (this place is massive). After being led through at least an hour of shanty homes and towns we reached the organization, and were given a tour of their programs. Transformation Urbana is an organization that equips and educates people in low-income communities. This education spans from local government to healthy eating and living through Zumba and soy supplement cooking classes. Oh and for lunch Zack and I got the pleasure of eating breaded pigs feet.
More of our adventures have included 2 AM taco runs with the whole family, mariachi sessions, dogs with dreadlocks, eating ram, cactus, pigs womb, horchata, and socially acceptable pork rinds. Probably the highlight spontaneous moment of the trip happened during a quick lunch stop at Arroyo. While looking for the mens room Jeremy stumbled upon a bull fighting arena. While watching for just a moment he saw what was a young boy no older than 10 fighting a massive bull. During a maneuver the bull's horn lifted him up and threw him to the ground Hulk Hogan style, leaving the boy frozen on the ground bleeding. Jeremy ran back to find us and we returned to witness this young boy return to the ring after being bandaged, and having lost the use of one arm, to dominate this beast. He returned with dignity, passion, and confidence like none I've seen. He commanded the mariachi's "Musica!" and defeated the massive bull to the applause of hundreds of onlookers.
Surfing The Nations has an amazing program called the Ulu Pono Kids program. Ulu Pono means "To thrive on a righteous path'". Ulu Pono's goal is to help the youth of the area find that better path. Through the generosity of Friends of Hawaii Charities, Ulu Pono is able to offer a free after-school program during the school year called 'Thriving Arts.' It is through 'Thriving Arts' that at-risk youth are given lessons in art, dance, and music. This year, they've been studying ukulele and art following the theme of Imagination. Ulu Pono also offers a once a week reading intensive program called "Genius Factory" where the kids have a reading buddy who helps them build upon their reading skills and other areas of academics. Not only do the kids have a chance to learn, but a chance to develop personally. I have had the privilege of witnessing transformation in these kids. Some of these kids are in very challenging and even harmful environments. I've seen children who don't even have the confidence to speak a single word become bright chatter boxes, I've seen children who were known for their unruly behavior become leaders, I've seen these kids blossom when given love, instruction and a chance to thrive in their own creativity.
Giving alternatives to destructive lifestyles, holding out good choices to combat the devastating choices is a fundamental principle in effective activism: Don't simply tear down, but build up. Don't simply pit yourself against something; let your cause be to change, to transform, to restore.
On November 17th, we will be celebrating the accomplishments of the Ulu Pono kids as they showcase their art accompanied with ukulele performances. If you are in Hawaii, this is a night you do not want to miss. Local well known artists such as Patrick Parker, Clark Takashima ,Nick Welles and Clark Little will be displaying their work alongside the children's. The night will include free admission, food, a great gallery to browse, vendors, live music and more. Most importantly, it will be a night in which the community gathers to empower the future artists of the island. Come enjoy the evening, get inspired and help cheer on and build up our youth.
When I found the 'Black Cab Sessions', three thoughts went through my mind:
1. I would love to be a passerby at a stop light witnessing what this looks like from the outside.
2. Is this what people did on road trips before radio? They must have.
3. This is amazing.
The Black Cab Sessions is basically some rad musical artists piling in the back of a black cab in the UK (and there's also USA sessions) and taking a drive whilst playing and recording a song. Brilliant. There are literally hundreds of sessions to choose from.
Don't you feel like you're right there with them? I found it almost therapeutic following them as they weave through the streets and play.
Check out these takes:
Happy Weekend!
photo cred Black Cab Sessions
If you're anything like me, documentaries can be a bit dangerous.
I just watched a great documentary called This Way of Life about a family in rural New Zealand overcoming obstacles and living a simple, yet satisfying life.
The whole hour and twenty minutes of the film caused me to suddenly want a farm with six kids, fifty horses and a few dogs here and there. I felt that I had to go swim in the river on horseback and walk through wide open fields every day.
Then I  saw the trailer for the documentary Blood Brother which tells the story of a young man who gives everything to work with children infected with HIV in India. Moments into the two minute and nineteen seconds of this trailer, I decide it is vital for me to pack up and head out to a village in the middle of nowhere and never look back.
Non-fiction. Documentaries. Real- life stories. Perhaps I saw these lifestyles and immediately wanted to feel and experience the things I'd seen: the struggle, the bonds, the hope, the pain; Or perhaps these desires and dreams have already been imbedded in my soul for a long time. Maybe this non-fiction reel shows my eyes what my soul has only imagined, displaying it through the stories of others.
Non-fiction says "It's possible. It's real. it's happening now, and you can be a part of it."
Documentaries used to be associated with an older generation, only useful for looking into the past. They seemed too 'school like' for the younger generation that were on the way to something new. Now, documentaries are popping up everywhere on every subject and have proven to be some of the most inspirational fuel existing in media. We live in the information age. Visionaries have taken that wealth of information, added vision, focus and inspiration and used it to produce powerful works of art.
Maybe we should be call this time the 'create age' or the 'art age'. Are we in our own digital renaissance? While you ponder that,
Here are some of our favorite documentaries and some we're stoked on seeing soon.  Some old, some new, all good:
'Nord for Sola' or 'North of the Sun' is a new surf film that just took away 'Best Documentary'  and 'Viewers Choice Award' at the London Surf Film Festival . This film follows two crazy Norwegians who decide to spend the winter in one of the coldest places you could find, and, you guessed it, surf. This one got amazing reviews, and we're pretty sure our Swedish staff and interns will be stoked to see some fellow Scandinavians getting such recognition in the surf world (and as we live in slippers/flip flops  every day of the year here in Hawaii, I automatically highest respect for anyone that will face the cold like these guys)!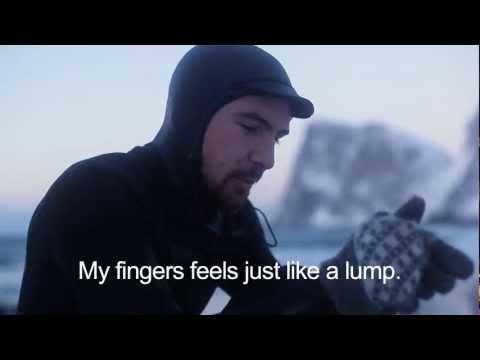 Gum For My Boat: If you've known STN for a while, you've definitely heard of  Gum For My Boat  The film follows pro surfer Kahana Kalama as he goes to visit an unlikely surf club in Bangaledesh. It is here that he sees how powerful surfing can be in forging relationship and positively influence people's lives. Sure, it's about surfing but even deeper it's about hope and community. One of the most moving stories in the film is the way that the kids in the club learn to care for the needy in their own neighborhood and establish themselves as caretakers of their fellow man.  Check out the trailer below and see the full length documentary here.
Here +Now:  Okay, so it's not a 'documentary' but if anyone can put together an award winning surf film entirely filmed in a single day, it's Taylor Steele. The man who brought us Sipping Jetsreams and The Drifter and other epic films has done it again with Here + Now. This film is an incredible collaboration of some of the best known film makers and surfers totaling twenty five professionals working on this project. It definitely was no small feat. Here + Now covers not just the waves, but the whole process of the journey we go on to get to the waves, showcasing spots all over the world. We love how it highlights the simple pleasures that come with the surfing lifestyle and the joy that can be found across the globe in every step of the way: to, in, and away from the session.
Let us know your favorite picks! Have an inspiring weekend!
Photo credit Rava Films
For today's Weekend Jam, we bring you the unique and awe-inspiring range of Pat Grossi's Active Child.  There is no exaggeration when I say my mouth literally dropped when I heard this guy weaving perfection with his vocal chords. The song "When Your Love is Safe" is one of his great tracks that brings a ballad with a beat. And do we even need to mention this dude's playing a harp? Must see, must listen, must buy here.
Continue Reading
…And they're off!
Last night we sent out five of our staff to California, thus beginning our 2012 California/Mexico Recruitment Tour. I had a chance to peek at their schedule and it looks pretty packed with visits to Azusa Pacific University, Point Loma, Hurley International and the Dane Williams Memorial Surf Festival – and that's just in California.
Continue Reading
It has been a quick yet fabulous month in Bangladesh and the team has been making their way back home to Hawaii. 12 hours on a bus from Coxs Bazar to Dhaka, an airplane through Thailand, and a couple more flights over the Pacific and I'm sure they will be sleeping for the next day just recovering from an exhausting travel.
Rickshaws rides and elephants, surfboards and street-kids, three-pieces and board shorts. You can begin to realize the world of a difference the sport of surfing might pose in a country like Bangladesh. But after only 30 days, the 2012 Bangladesh team hosted a nation-wide surfing competition in Cox's Bazar, an all-girls surf camp and outreaches to the neighboring country of Myanmar.
Continue Reading
I think we've found our Autumn soundtrack.
L.A. based band  'Lord Huron' released their debut  full-length album  Lonesome Dreams this week and in no time we were sold on every track.
Here's what NPR's Stephen Thompson had to say: "Lonesome Dreams comes along at just the right time of year, meeting as it does between the beachy lightness of summer and the bittersweet plaintiveness of autumn. It straddles the seasons with disarming deftness — sunny enough to distract, sweet enough to comfort."
Continue Reading
The beautiful beach community at Lanikai, Kailua will play host to a surf film festival, surf fair and stand-up-paddle race at the 2012 Lanikai Surf Festival on October 19th & 20th.
Continue Reading